Who Are We?
Our laboratory is known for disinfectant efficacy testing because 2 important motives have consistently been at the core of everything we say and do for our clients.
Founded on 30 June 2016 in the heart of Kuala Lumpur, Malaysia, Viroxy Sdn. Bhd. is a breath of fresh air among testing laboratories providing microbiological and chemical testing services. At Viroxy, we are aware of the challenges our clients (often manufacturers) face when dealing with testing laboratories. The industries in which our clients operate are heavily regulated and to run a legitimate business, there's a price. It isn't cheap and it's inevitable. It is no surprise then, that the cost of microbiological testing services remains at the top of their grievances.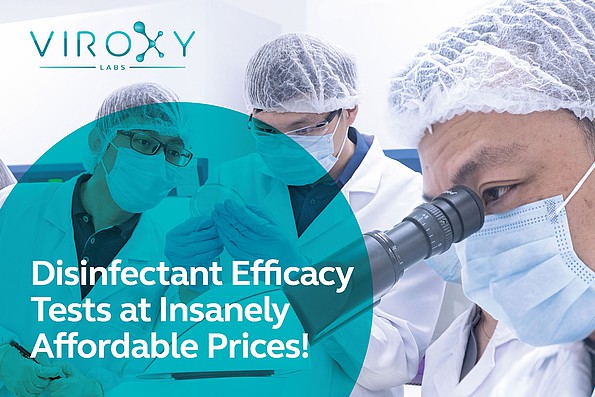 Our Brochure
Have a look at our vibrant yet comprehensive brochure to understand what we have to offer and our specialty
This is where we come in...
After being in this business for years, nurturing and hoping for the success of our clients, it is painful to see them struggling amidst rising cost of raw materials and numerous other expenses related to meeting regulatory requirements. Especially small players with big hearts. Another bane for manufacturers is the turnaround time (TAT). Testing laboratories usually have a queue of clients, resulting in a long wait. Depending on the laboratory's process, the wait can be anywhere between a few weeks to several months. A lot can change in that time, disrupting business plans.

This is still manageable if the test result comes out as expected but what if it doesn't? Adjustments must be made and the product sent for re-testing. And then, another round of waiting. A year can fly by this way if multiple rounds of tests are required. We can all agree in this era where everyone's time equals to money, manufacturers can't afford to squander it by waiting for test results.
How we do it
Our processes are streamlined for faster turnover. And we have rapidly expanded our portfolio to include a wide range of tests including sterility testing and environmental monitoring service. Due to our geographic location, we can afford to offer these services at a competitive price. Most popular among our clients is disinfectant efficacy testing.

At the moment, we have 29 European Norms listed under the scope of ISO/IEC 17025 accreditation. This covers almost every test available to determine the efficacy of disinfectants and antiseptics for use in the medical, veterinary and food, industrial, domestic & institutional sectors. To consistently meet the demands of our clients, we have an impressive collection of more than 175 microorganisms ranging from bacteria and fungi to viruses and spores.
But that is not all! To learn the true extent of our capabilities, consider reading the following pages as well: