Accreditation
Viroxy is accredited with ISO/IEC 17025, an important standard for calibration and testing laboratories worldwide. We are accredited with 29 European Norms under the scope to test disinfectant efficacy. Our rapid expansion program has already laid the foundation for the inclusion of a number of other norms and international standards by the end of 2021.
Certificate of Accreditation Scope of Accreditation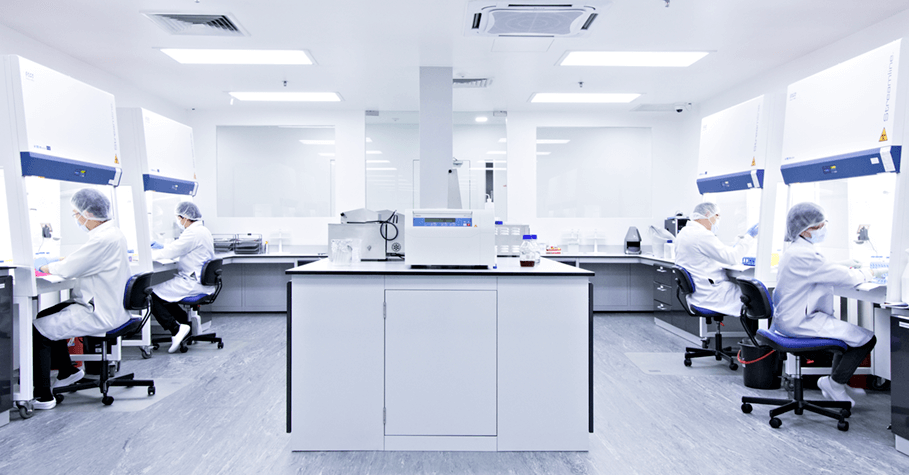 What is ISO/IEC 17025 accreditation and why should you procure the services of an accredited laboratory?
ISO/IEC 17025 accreditation is an important standard for calibration and testing laboratories worldwide as it proves that a laboratory is technically competent and able to produce accurate results and calibration data. Testing laboratories must demonstrate the ability to achieve several key outcomes before they can be accredited with ISO/IEC 17025.
Method Verification
Every microbiological laboratory seeking for the accreditation must be able to demonstrate that validated test methods can meet certain requirements when performed in the laboratory. This process is known as Method Verification (MV) and it is determined by measuring repeatability and intermediate precision. Repeatability is the ability of the laboratory's analyst/microbiologist in delivering similar results when a test is performed repeatedly under similar operating conditions over short intervals of time. Intermediate precision refers to the ability of the laboratory as a whole, to produce similar results when different analysts/microbiologists conduct the same test on different days. In essence, if the test results are consistently accurate, the laboratory is deemed to have proven that the test method is followed precisely in its facilities. Viewed in this context, ISO/IEC 17025 accreditation affirms Viroxy's ability to deliver consistent and reliable results.
Interlaboratory Comparison
Although method verification is an accreditation necessity, it remains an internal process that does not adequately reflect industry standards. The competency displayed by each microbiologist within the laboratory must be substantiated by the collective result of tests conducted within the same parameters by peers from other ISO/IEC 17025 accredited laboratories. This is known as interlaboratory comparison and it requires all participating laboratories to perform the same test on the same batch of sample according to the same measurement and data analysis. The identities of the laboratories are kept confidential but the results are shared with all for anonymous comparison.
Measurement Uncertainty
As no test result with a measurement component can be 100% accurate, a laboratory must be able to calculate the degree of uncertainty for each test. Measurement uncertainty describes how accurately a measurement represents the actual value by providing a quantitative indication of the quality of the result. ISO/IEC 17025 has specific requirements regarding the reporting and evaluation of measurement uncertainty. Although it is not officially declared in every test report, the data must be calculated for every test conducted and supplied when requested by client.
Metrological Traceability
International Vocabulary of Metrology explains metrological traceability as "property of a measurement result whereby the result can be related to a reference through a documented unbroken chain of calibrations, each contributing to the measurement uncertainty". Every laboratory equipment with measuring function affects the uncertainty of a test result and as such must be calibrated periodically and the records kept. Without measurement traceability and verification by an independent body, a laboratory is free to make fraudulent claims in a test report.
To maintain the integrity of ISO/IEC 17025, only an appointed accreditation body (AB) can grant the certificate and offer re-certification. A voluntary, third-party-review process known as an audit is conducted annually to ensure continued technical competence and compliance with ISO/IEC 17025.
In Malaysia, laboratory accreditation is within the purview of the Department of Standards Malaysia under the Ministry of Science, Technology and Innovation and it is administered through Skim Akreditasi Makmal Malaysia (SAMM). According to Standards Malaysia, "the primary objective of SAMM is to provide a credible accreditation service to testing and calibration laboratories including medical testing laboratories such that ultimately SAMM endorsed test reports and calibration certificates are accepted internationally." Mutual acceptance of test results endorsed by ABs between different governmental and regulatory organisations is guaranteed throughout the world through International Laboratory Accreditation Cooperation (ILAC) arrangement.
As a customer or manufacturer who procures the services of a testing laboratory, ISO/IEC 17025 accreditation helps you distinguish between laboratories with proven technical competency and a sturdy quality management system and those without. The benefits of an accredited laboratory to manufacturers can be summarised as follows:
You avoid risking your investment by sending samples to laboratories with dubious track record.
You save time when tests are conducted with tried and tested methods endorsed by an independent third party.
You avoid wasting money on botched tests and expensive re-testing with an accredited laboratory.
We at Viroxy laboratories are aware how time is of the essence when it comes to launching a new medical device. This is one of the reasons we combine affordability with quality and punctuality.